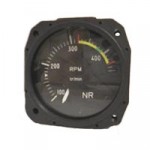 NR Rotor Indicator – NR9902
Through (he intermediary of a sensor on phonic wheel, it measures the rotation speed of an helicopter's main rotor.
The tension delivered by the sensor supplies the indicator which is consequently autonomous; it is possible to supply the indicator from the AC. power on plane 28 Vdc.
The Internal lighting in accordance with the norm OOAS1821 (bluish white) and the Measuring range from 100 to 450 RPM.